Texte sur bandeau
sur bandeau ligne 2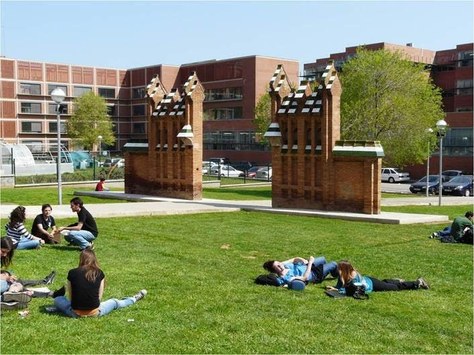 Welcome in Barcelona
Of all EU countries, Spain is the one that receives the most Erasmus students. Many students choose Spain not only for the academic offer but because they are interested in the Spanish way of life and language (Spanish is currently the second most spoken native language in the world and the fastest growing language). Barcelona, capital of Catalonia and the second largest city in Spain, is one of the most important airport hubs in Europe and one of the world's leading tourist, economic, cultural and scientific centers (it is the sixth most visited city in Europe), also thanks to its warm climate and historical and cultural heritage.
Barcelona is one of the capitals of the Mediterranean way of life. The international atmosphere, the sunny public beaches, the Mediterranean cuisine with fish and shellfish dishes and tapas, the busy nightlife, a local community with many world-heritage sites and cultural activities, such as the world-renowned Modernist architecture (https://en.wikipedia.org/wiki/Modernisme) or events such as the Diades castelleres (www.barcelona.de/en/barcelona-castellers-human-towers.html) and the Correfocs during festivities (www.barcelona.cat/culturapopular/en/festivals/fire/diables), are all part of the everyday experience. Barcelona hosts important music festivals such as the Primavera Sound or the International Jazz Festival, and is home to international events such as the Mobile World Congress. Life in Barcelona is less expensive than in other big European cities such as London, Paris or Berlin; basic commodities like food, transportation and leisure are cheaper, and students can rent a room in a shared flat at an affordable price pretty much anywhere and enjoy a lively city which despite its large population is able to remain very enjoyable and human-size.
Barcelona is home to the ALBA synchrotron light source, one of the few large facilities of its kind that exist in Europe. Barcelona and Catalonia possess a top-class network of medical institutions, research centres, hospitals, biotech startups and pharma companies (but also companies specialized in cosmetics or veterinary) which constitute a world-leading health- & life-sciences hub accounting for 3.4% of the GDP of Catalonia and 75% of Spanish production of fine chemicals. Catalonia hosts the five largest Spanish pharmaceutical companies and many international ones. Top global companies such as Boehringer Ingelheim, AstraZeneca, Sanofi, Novartis or Roche have installed production headquarters in the Barcelona area, where the pharmaceutical industry has always been an economic driver, creating Europe's densest pharmaceutical ecosystem.
Barcelona also thrills with innovation: it hosts more than 1200 start-up companies, some of which related to the life sciences, and the El Vallès area just outside Barcelona, the densest productive area in Europe, is home to half the pharmaceutical industry in Spain. One third of the R&D investments in Catalonia are in Pharma companies (http://catalonia.com/industries-in-catalonia/sectors/health-well-being-and-life-sciences-industries/pharmaceutics.jsp).
The Universitat Politècnica de Catalunya
The Universitat Politècnica de Catalunya · BarcelonaTech (UPC) is a public institution of higher education and research specialised in science, engineering, and architecture, with 3300 teaching and research staff members. Some 28000 students are currently enrolled in the various Bachelor, Master and Doctorate programmes. Roughly 6000 students graduate each year from Bachelor and Master programmes, and 500 PhD titles are issued every year. The UPC is the Spanish university with the highest scientific output and the largest amount of incoming research funds.
The UPC is the Spanish university with the highest number of international students on master's and doctoral degrees. During the 2017-2018 academic year, there were 1,426 incoming students from exchange programmes, mostly via Erasmus programmes. There are also a great number of international students enrolled at the UPC as regular students (3,379 students in the 2017-2018 academic year). All Master courses are taught in English.